FIDALGO UKE NETWORK JAM,1:10-2:40 bi-weekly Thursdays, is next on Sept 28, at the Anacortes Senior Activity Center.  For Thursday songlist, click "FUN JAM" in menu above, then "jam date".  We start at 1:10 with easy 2, 3, & 4 chord songs; followed by  more challenging stuff.  Be there by 1:10 if you'd like some easier stuff.
Two Anacortes workshops are coming up: Kevin Carroll & Stuart Fuchs.  Our workshop prices of around $25 are really special; I see that Seattle prices are on the line of $40 per hour, so do take advantage of our workshop instruction here in Skagit county.
Kevin Carroll, coming September 25th to the Village Pizza!! Still Room for you!   Workshop: The Art of the Ensemble; How To Maximize the Sound of Your Ukulele Group.  All levels.  See CALENDAR for info.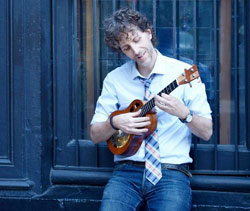 Kevin Carroll is a Texas elementary educator, international instructor of uke workshops, performing & recording artist, & teacher of music lessons to all ages & levels in Austin. He has launched a ukulele-based music education charity: edUKEcation.org which brings lessons & instruments to schools & students with limited resources.  Equally passionate about music, education & ukulele, he seeks to inspire & empower students to exercise their birthright of making music. Kevin is the creator of the Austin Ukestra.
Kevin's scope of teaching includes Texas-based music, blues, soul, funk, slide ukulele, family music facilitation, ukulele ensembles, & beginners of all ages.  An Austin resident for over 20 years, he has played guitar & toured across the globe with Americana artists such as the Flatlanders (Joe Ely, Butch Hancock & Jimmie Dale Gilmore), Jimmy LaFave,  Alejandro Escovedo, Robyn Ludwick, Charlie & Bruce Robison. In addition to leading his own groups as a singer-songwriter, Kevin has produced albums & written songs for several Austin artists.
 Stuart Fuchs, coming November 7th to the Village Pizza!!  Workshop: Ukulele In A Day (all levels) & concert:  See CALENDAR for info; tickets are already selling!
Other CALENDAR "clickables":  Port Townsend Uke Fest Concerts, Sept 29 & 30;  Uke Communities Jam Schedules;  Gail MacDonald's Fall Classes;  New Hawaiian focus for Janice's Wednesday Whidbey Ukulele Kanikapila, Tuesday beginner jam added (go to Workshops: Whidbey island);   Newkulele Class  Registration.   The Quiet American with Del Rey, Adam Franklin, & Matt Weiner, Oct 1; Keims Workshop at Dusty Strings Oct 2: Henry-Sitter needed!  2nd Annual Bremerton Uke Fest, Oct 21 & 22
Used Uke Needed?  Listings include a soprano, and a "keep-it -for-awhile,-then- pass-it-along" baritone:   Click Here!   If you have a uke that is gathering dust & needs a new owner, I'll post it on the website.
 Email LInda at  zuke.uke@gmail.com for info on anything in this website.